The force is about to get a whole lot stronger with PlayStation.
The Limited Edition Star Wars Battlefront PS4 Bundle will include a custom 1TB limited edition edition PS4 system and DualShock 4 wireless controller inspired by Darth Vader. The fully customized PS4 features an image of Darth Vader, as well as a repeated Star Wars logo etching across the top of the system. The Darth Vader edition DualShock 4 is inspired by Darth Vader's suit and features the repeated Star Wars logo on the Dual Shock 4's touchpad.
The bundle also includes a physical copy of Star Wars battlefront, as well as a digital voucher to download four classic Star Wars titles - Super Star Wars, Star Wars: Racer Revenge, Jedi Starfighter, and Star Wars Bounty Hunter - playable for the first time on PS4, and sporting enhanced graphics and trophy support.
Click Images to Enlarge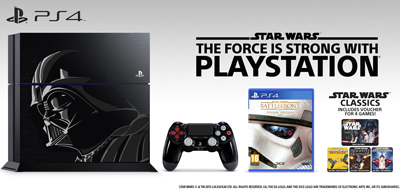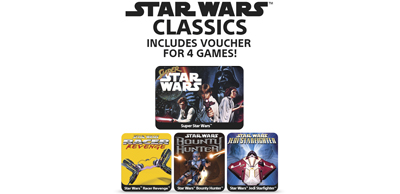 Limited Edition Star Wars™ Battlefront™ PS4 Bundle Includes:
Fully Customized Darth Vader-inspired 1TB PS4
Full Customized DUALSHOCK®4 Wireless Controller
Star Wars™ Battlefront™: Deluxe Edition (Physical) including five pieces of DLC

Inflict more damage on enemy vehicles with the Ion Grenade.
The Ion Torpedo locks on to and delivers extra damage to your opponents' vehicles.
Made famous by Han Solo, the DL-44 is the blaster of choice for scoundrels across the universe.
Get electrified with the Ion Shock emote, available exclusively in the Deluxe Edition.
Celebrate your win in style and pump your fist in the air with the exclusive Victory emote.

4 Star Wars™ Classics (Voucher Code)

Super Star Wars™
Star Wars™: Racer Revenge
Jedi Starfighter
Star Wars™ Bounty Hunter
About Star Wars: Battlefront:
Feeling the ominous thud of an AT-AT stomping down on the frozen tundra of Hoth. Rebel forces firing blasters as Imperial speeder bikes zip through the lush forests of Endor. Intense dogfights between squadrons of X-wings and TIE fighters filling the skies. Immerse yourself in the epic Star WarsTM battles you've always dreamed of and create new heroic moments of your own in Star Wars™ Battlefront™.
Fight for the Rebellion or Empire in a wide variety of multiplayer matches for up to 40 players, or in exciting challenges inspired by the films available solo, split-screen or through online co-op. Star Wars Battlefront combines this epic action on a galactic scale with stunning visual recreations of some of the most iconic planets, weapons, characters, and vehicles in the Star Wars universe and the original sound effects from the films, to give Star Wars fans the ultimate, authentic and immersive interactive experience they've been looking for.
The Most Immersive and Photorealistic Interactive Entertainment Experience
Visit classic planets from the original Star Wars™ trilogy, detailed with an unprecedented amount of realism and sense of authenticity that will transport you to a galaxy far, far away
Experience amazing digital replicas of the original Star Wars movie models, brought to lifelike fidelity by DICE's use of photogrammetry technology
Ground-based Combat on a Galactic Scale
Engage in epic battles on iconic planets including Hoth, Endor, and Tatooine. Also, bring the fight to the previously unexplored planet, Sullust
Pilot a diverse set of ground-based vehicles including nimble speeder bikes, massive AT-ATs, and more
Master the Battlefront with Iconic Star Wars Characters
Play as some of the most memorable characters in the Star Wars universe including Darth Vader and Boba Fett
Encounter a variety of beloved characters from the original trilogy such as C-3PO and R2-D2
Take to the Skies in Epic Star Wars Dog Fights
Pilot the Millennium Falcon, X-wings, TIE fighters, and more of your favorite vehicles in exhilarating aerial combat
Made for Jedi and Padawans Alike
Battle alongside your friends online or in offline split-screen Co-op mode
Seamlessly swap between 1st person and 3rd person views
Multiplayer: 1-2 Players Offline & 40 Players Online
Star Wars Battlefront: Fighter Squadron Mode Gameplay Trailer
Click Images to Enlarge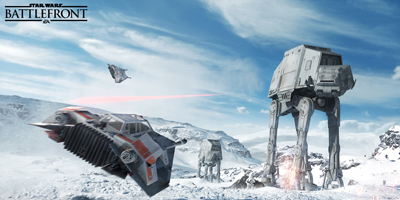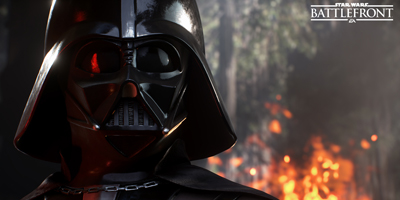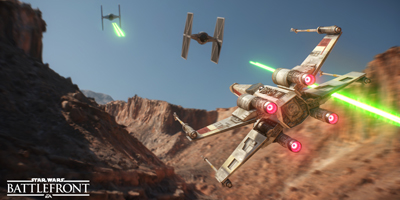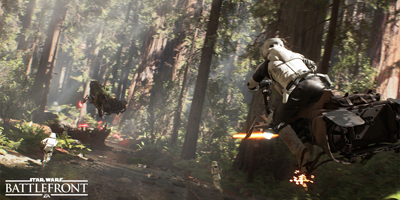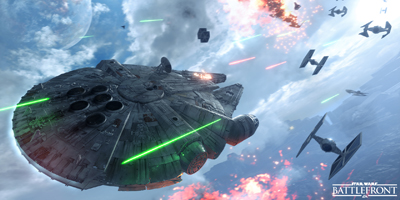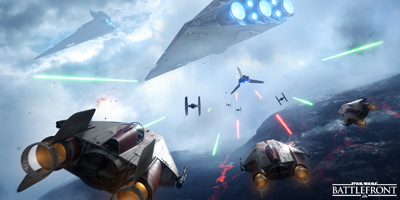 About Sony's PlayStation 4
The PlayStation®4 system opens the door to an incredible journey through immersive new gaming worlds and a deeply connected gaming community. PS4™ puts gamers first with an astounding launch lineup and over 180 games in development. Play amazing top-tier blockbusters and innovative indie hits on PS4™. Developer Inspired, Gamer Focus.
PlayStation®4. Greatness Awaits™
Gamer Focused, Developer Inspired
The PS4™ system focuses on the gamer, ensuring that the very best games and the most immersive experiences are possible on the platform. The PS4™ system enables the greatest game developers in the world to unlock their creativity and push the boundaries of play through a system that is tuned specifically to their needs. The PS4™ system is centered around a powerful custom chip that contains eight x86-64 cores and a state of the art 1.84 TFLOPS graphics processor with 8 GB of ultra-fast GDDR5 unified system memory, easing game creation and increasing the richness of content achievable on the platform. The end result is new games with rich, high-fidelity graphics and deeply immersive
New DUALSHOCK®4 Wireless Controller
The DUALSHOCK®4 controller features new innovations to deliver more immersive gaming experiences, including a highly sensitive six-axis sensor as well as a touch pad located on the top of the controller, which offers completely new ways to play and interact with games. The new SHARE button puts video streaming and sharing a tap away.
Shared Game Experiences
Engage in endless personal challenges with your community and share your epic triumphs with the press of a button. Simply hit the SHARE button on the controller, scan through the last few minutes of gameplay, tag it and return to the game—the video uploads as you play. The PS4™ system also enhances social spectating by enabling you to broadcast your gameplay in real-time.
Entertainment
PlayStation®4 will provide gamers access to a rich portfolio of applications that feature the hottest movies and television shows, unique specialized content, and live sports programming.
PlayStation®Plus
Introducing the new PlayStation®Plus, the membership service designed to bring games and gamers together, and fuel the next generation of gaming on the PS4™ system. PlayStation®Plus helps you discover a world of extraordinary gaming experiences through the ever-expanding collection of great games that members receive access to as part of their membership. With PlayStation®Plus on the PS4™ system, you'll also discover a world of like-minded gamers to play with and challenge, connected through an all-new multiplayer service worthy of the next generation.
Remote Play
With Remote Play, you can pick up on the PlayStation Vita where you left off on the PS4, to ensure you never stop playing. If you want to continue on another full screen, PlayStation TV (released 14 November 2014) allows you to stream your PS4 games to any TV in your home. If you aren't at home, the PlayStation App allows you to connect and interact with your PS4 via your smartphone, as well as keep up to date with what your friends are playing on their console.
This box contains:
PlayStation 4 Console
DualShock 4 Wireless Controller
Mono Headest
Power Cable
HDMI cable
USB cable