Receive Exclusive Multiplayer Beta access for Uncharted 4: A Thief's End* with Uncharted: The Nathan Drake Collection. Uncharted 4: A Thief's End Multiplayer Beta runs from December 4th - December 13th.
UNCHARTED: The Nathan Drake Collection
From the groundbreaking storytellers at Naughty Dog, comes the genre-defining epic that revolutionized adventure storytelling, rebuilt by Bluepoint Games with the power of the PS4 system. Experience one of the most revered game series of all time as you follow the perilous journey of Nathan Drake across the globe, from humble beginnings to extraordinary discoveries. Meet an unforgettable cast of characters as Drake puts life and friendship on the line in a race against ruthless enemies to uncover unimaginable treasure. UNCHARTED: The Nathan Drake Collection includes the singleplayer campaigns for UNCHARTED: Drake's Fortune, UNCHARTED 2: Among Thieves, and UNCHARTED 3: Drake's Deception.
Unparalleled Story – Play as Nathan Drake across a trilogy of thrilling, white-knuckle adventures. Experience Drake's relationships with those closest to him, as he struggles to balance adventure and family.
New Trophies – Brand-new trophies created exclusively for UNCHARTED's debut on the PS4 system.
Photo Mode – Freeze gameplay at any time and take control of the camera to capture your most memorable moments from the trilogy to share with friends directly from your PS4 system. Utilize graphical filters, camera controls, and other options to customize your shot.
UNCHARTED 4: A Thief's End Multiplayer Beta – purchasers of UNCHARTED: The Nathan Drake Collection will receive exclusive access to UNCHARTED 4: A Thief's End multiplayer Beta while the Beta is available.
PlayStation®4 Overview
THE BEST PLACE TO PLAY
For the biggest blockbusters and the best exclusive games, there's only one place to play – PlayStation®4.
As the world's most powerful games console*, PlayStation®4 boasts:
a dazzling line-up of exclusive titles
a highly engaged online network of players
groundbreaking innovations like Share Play
truly immersive virtual reality gaming
500GB and 1TB models to store all of your favourite games
*Compared to home consoles, based on a combination of RAM, CPU, GPU, ROP units and peak GPU shader throughput.
BLOCKBUSTER GAMES AND PS4™ EXCLUSIVES
Looking for the best games? Here's our pick of the big hitters on PlayStation®4…
Join Nathan Drake on a perilous hunt for a fabled pirate treasure in Uncharted 4: A Thief's End™. Go on a mesmerising adventure in Tearaway™ Unfolded through a magical world of papery fun. Fight among the legends of Street Fighter® V in this console-exclusive brawler from Capcom. Feel the fury in brutal action epic God of War® III Remastered, as Kratos vents his wrath on the gods of Olympus. And get 30 days' early access to map missions in Call of Duty Black Ops 3 only on PlayStation®4.
NEVER STOP PLAYING
The days of arguing about who has control of the TV are over thanks to PlayStation®Vita Remote Play. Many PlayStation®4 games can now be streamed direct to a PlayStation®Vita system, giving you the unique freedom to continue your single player adventures or multiplayer matches regardless of who's in charge of the precious TV remote control…
THE PLAYSTATION®APP
Connect to the PlayStation®App through your smartphone or tablet to stay in touch with your gaming universe 24/7 – from shopping on PlayStation®Store to controlling your PS4™ remotely or comparing your trophy collection with your friends.
Download the PlayStation®App today from the App Store or Google Play.
ENDLESS ENTERTAINMENT
A built-in Blu-ray Disc player, plus your favourite movies, TV shows and music, whenever you want. All you need is a Sony Entertainment Network account to get started.
Apps available:
YouTube, PlayStation Music powered by Spotify, Netflix, TV from Sky, Amazon Instant Video, BBC iPlayer, PlayStation Video, Now TV, IGN, BBC Sport, and many more.
You can also play music and video files directly from your home media server or USB storage device with Media Player for PS4™.
PLAYSTATION®PLUS
Sign up to PlayStation®Plus to join millions of players in action-packed online multiplayer matchups, get exclusive offers at PlayStation®Store, and download 24 games per year that are yours to play for as long as you're a member.
As the world's largest new-generation online gaming community, PlayStation®Plus is where friendships are formed and battles are won.
Why we think you'll love PlayStation®Plus:
Join your friends in PS4™ online multiplayer
Download 24 PS4™ games a year
Enjoy exclusive discounts at PlayStation®Store
Get cloud storage for your saved games
Invite your friends to play with Share Play
PlayStation®Plus – it's where the players are.
EXCLUSIVE FEATURES
Share Play
Invite your PlayStation™Network friends to join you in your favourite PS4™ games – even if your mates don't own the game themselves. Team up together, go head-to-head and even hand control of your games to your PSN friends, no matter where they are on the planet or what games they have in their collection – it's as if you're all sitting together on a virtual sofa.
Now Playing
See the games your online friends are currently playing – then join them in online multiplayer matches or download those games directly from PlayStation®Store.
Friend Search
Expand your social network with the Facebook friend search feature – let PS4™ automatically add your Facebook friends to your online friends list.
PS4™ PERIPHERALS
DUALSHOCK®4 Wireless Controller
Team up with friends or take them on with an extra DUALSHOCK®4 Wireless Controller and show your true colours with the Magma Red, Wave Blue, Glacier White and Urban Camouflage models.
Wireless Stereo Headset 2.0
Discover just how great your games can sound with the Wireless Stereo Headset. Hear everything in stunning 7.1 virtual surround sound, or chat with friends and instruct teammates with crystal clear clarity via the noise-cancelling microphone. With a funky foldable design, the headset can be used wirelessly for up to eight hours thanks to its rechargeable battery.
Click Images to Enlarge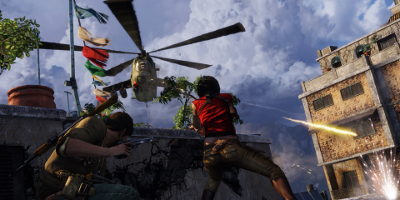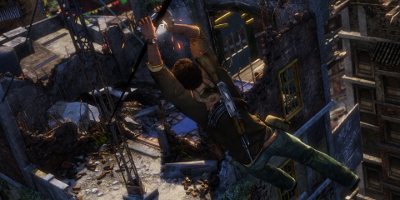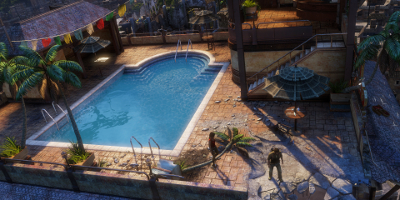 *By obtaining a copy of Uncharted: The Nathan Drake Collection. Both physical and digital versions will provide access to the beta. You will also need PlayStation Plus membership to access. Once the Uncharted 4 Multiplayer Beta is available, please follow the below instructions:
Insert the Uncharted: The Nathan Drake Collection game disc into the PlayStation 4
Highlight the Uncharted: The Nathan Drake Collection game icon
Select 'Overview'
Select the Uncharted 4 Multiplayer Beta Tile and press the X button to begin your download from the PlayStation Store.
Please note: Users must have save data for UNCHARTED The Nathan Drake Collection™ saved on your system in order to access the Uncharted 4 Multiplayer Beta.
To create a save file for Uncharted: The Nathan Drake Collection, you must:
Launch Uncharted: The Nathan Drake Collection
Select either Uncharted: Drake's Fortune, Uncharted 2: Among Thieves, or Uncharted 3: Drake's Deception
Press X to begin a New Game
Select New Game from the Start menu
Select a Game Mode
Select a Difficulty
Then press the X Button to create a new game data save